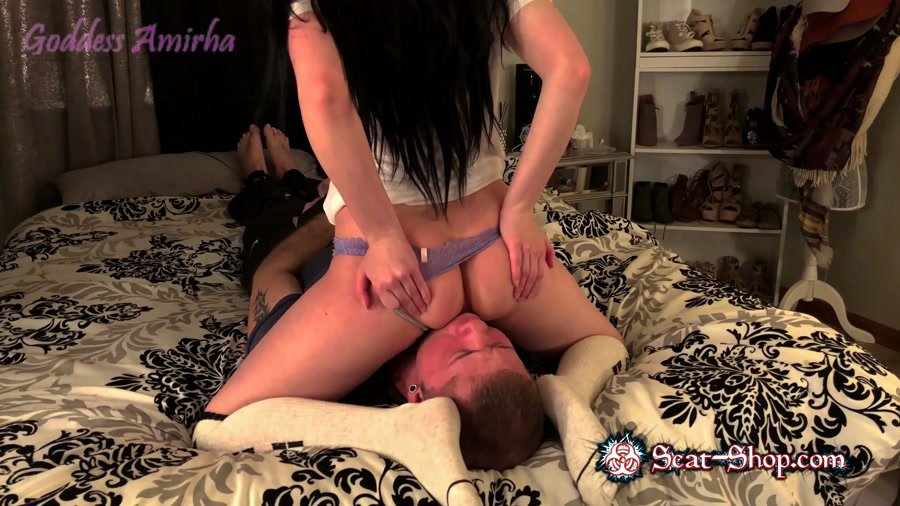 FILMED IN 4K – So it's Valentine's Day and I have a new "date" for today… He thought we were going out somewhere fancy, to try and impress me. Ahaha no. I told him to lay on the bed, that I had other plans for us today... he thinks he's getting lucky I bet, but it's initiation time... This is what it takes if you want to be MINE. He'll have to prove how much he wants me… how much hell he'll take for me... FROM me... I crawl onto him and shackle his feet together and turn, binding his wrists. Smirking down at him I can tell he finds it flirty & he gets brought to reality instantly when I move to his head and lower my pussy right into his nose. Ahhh. There we go. No breathing for you for a while... his eyes are tell me he's starting to understand the turn this is taking... one minute later when I still haven't let up & ignore pathetic little whimpers. His nose and mouth start to suck against my pussy and ass looking for air but only getting the sweat of my panties. Mmmm.. I love that feeling. I let up for just ONE SECOND giving him a quick breath and drop quickly back onto his face. He whimpers helplessly and tests his restraints just to come to the realization that he's got no choice in this anymore. He's completely at my mercy. And it's about to get much worse... I smother him completely senseless for long periods of time with only quick breaths allowed inbetween. Haha I wonder how red he can get?! I'm only just getting started and he's already panicking and turning shades. He struggles and cries into my Pussy while trying to cope with the pathetic half breaths I'm allowing him from time to time. Only catching breaks when I switch positions. I reverse it on him and keep my Pussy pressed against his mouth when he gets to breathe.. keeping him silent while lifting EVER SO SLIGHTLY enough to allow him to sniff & suck deep breaths through the ass part of my sweaty thong panties. Mmm... smell that? Gym panties!! Good boyyyy... annnnddd back in he goes.. back and forth, smothering and stealing all the tiny little rips of sweaty panty ass air I allow him. Testing his bonds from time to time to find himself still… fucked. Eventually he stops whimpering which each breath... awh. He's getting used to the smell and going nose-blind! That just won't do... "Open Your Mouth"... hypnotized by the shock and fear of his situation he obeys and I pull my panties to the side and place my ass right above his mouth. "STICK YOUR TONGUE OUT, and KEEP it OUT!". Slowly lowering myself onto his face I can feel him squirm and shudder as the tart taste of ass coats and overwhelms his tongue. Awh what's wrong? Never ate ass before?! Haha! I feel every inch of it sliding in. Exciting & turning me on.. I start to think of other ways I can humiliate him as he repeatedly suffers helplessly with his tongue locked in place deep inside my ass. Each time I let him breathe it's like he's tongue fucking my butthole and then it hits me. Both the idea... and the gas I've been holding in all this time out of habit! Screw that! I'm done holding it for hIm.. He's gonna hold it for me! "PURHHHHHT" .. A HUGE fart squoze past HIS tongue and echoed, filling his cheeks with nowhere to go. He almost screamed inside my asshole. Which oddly excites me? Huh… do it again! an equally loud & powerful fart vibrated past his tongue and rang inside his mouth, joining the last one… It doesn't get much more humiliating than this, does it? People usually run & clear rooms from my gas and here this guy is. Thought he was about to fuck a hot girl on Valentine's Day but gets turned into her little bitch, tied down and stuck with his face crammed in a her ass taking farts straight onto his tongue. His mouth sealed tight even, they farts are STUCK with nowhere else to go than his stomach.. God I can't even imagine awful this must be for him.. EATING my farts that have cleared large classrooms... it even turns me on.. forcing him to eat my stinky farts... it's empowering. Now he can smell them. I turn around facing him and forwards, leaning back with my hole lined right up against his nose. I want to SEE his eyes turn helpless when the first one hits... didn't take long before the next one was ready and I pushed a long… wispy HOT fart straight up his nostril like a funnel to his lungs.. his eyes squint and almost roll back before they start to water. As hot as it felt coming out I know it HAD to BURRNNN.. The worse it gets on him the wetter it's making me... two more bubbly farts barrel into his nostril before he really starts to panic & My little farts for air game comes to an end. I let him take a quick breath before sealing his nose back inside my ass.. feeling like the farts are getting stuck I switch back to reverse and sit right over his mouth hoping to release these stuck cramps.. I manage to get just a couple out before I realize why they're REALLY stuck... Oh… oh wow... this poor boy.. this only happens maybe twice a week and he just happens to have his mouth over my ass right now... & I'm gonna push it right in... This is truly going to be his WORST Valentine's Day ever… and my BEST. "I think I have to (use the bathroom)" .. He tests his restraints again and moans heavily but it's too late.. my feet have his head locked in position and I started to push before even saying anything... He whimpers a sad defeated repeatedly and it becomes increasingly muffled as I finish... ahhh... My poor valentine LOL. Not. He wanted to "be mine" and now here he is. His easy Valentine's date just made him her personal toilet... With his new Valentine's Day gift still present, I took his humiliation and servitude even further and ordered him to clean my ass. And like a good little boy he obeyed. A broken little boy... But clearly without something clean to "wipe" with... it was only making it worse! He was failing! So... needing something clean to wipe with I scooted my little girl booty back and sat it right on his nose. Mmmm... that's better. Get your nose right up inside there just like that.. growing tired from all the fun I took my time. Keeping his nose pressed right up against my filthy little girl-hole. Forcing him to suffer without air and his mouth filled by my ass for failing to do what he was told... As if he ever had a chance. Then with my Pussy for an even more intense & heavy seal.. No air allowed... This is what it takes to be mine.. You're my Bitch. You thought you were here to fuck me and use me on Valentine's Day didn't you?!? But now here you are.. all tied up with your face buried in my dirty little butt that just pumped your cheeks full… writhing in panic with no hope for air anytime soon… And for your final test to see how BADDLYY you want to be mine, I'm going to take your cuffs off and see if you're pathetic enough to get off like this. Mouth full & Nose Burried. Happy Valentines Day bitch. Cum if you can. SHOT IN 4K & compressed for size. Includes LONG HARD SMOTHERING with Short Breaths throughout. Forced Ass Sniffing, Forward/Reverse Pussy/Ass Smothering, Panty Smother, Face Farting-Nose/Mouth, Ass Licking, Ass Cleaning & Toilet Humiliation. FOR HARDCORE FACEFARTING SMOTHER FETISHISTS & TOILET FANTASIZERS ONLY.
Cast: GoddessAmirha
Genre of video: Femdom, Shitting, Scatting, Domination, Scat Porn, Humiliation
Duration: 00:26:24
PaySite: Scat-Shop.com
Quality: FullHD 1080p
Resolution: MPEG-4 Video 1920x1080 30.000 FPS 10.1 Mb/s
Format: mp4
Size: 1.87 GB

Save in social network:
Dear visitor, you went to the site as unregistered user.
We encourage you to
register
or enter the site under your name.