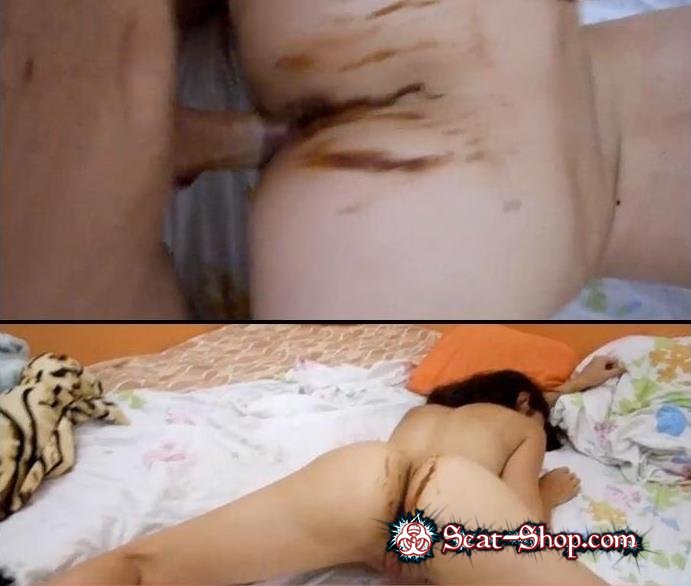 Ally's boyfriend has just woken up to find that she's pissed the bed again! And this time, she's not just wet the sheets, but she's pissed all over him too! There's a big wet patch on his underwear. He wakes her up, pulling the covers off to show her the wet spot on the bed.
"You've pissed the bed again. Third time this week! And this time you pissed all over me!"
Ally says that she's very sorry, but her boyfriend isn't going to put up with being pissed on!
"If you are going to act like a baby, I'm going to treat you like a baby." He reaches into the cupboard and pulls out a diaper. Ally looks shocked and tells him that there's no way she's going to wear it, but her boyfriend isn't hearing it. He grabs her and pulls off her panties as she struggles. She's going to wear the diaper whether she likes it or not!
Ally gets very mad as he puts the diaper on her, and tries to undo the tapes as he fixes the diaper on nice and tight. He turns Ally over and grabs some ties, then ties poor diapered Ally to the bed! She struggles but he's not having it. He leaves her to think about what she's done.
"You have to untie me. I have to go to the toilet!"
"The toilet is here! That's why you have a diaper on, sweetie."
But Ally doesn't have to pee, she's got to poop and she doesn't want to do it in a diaper! Ally struggles against the ties, wriggling as her tummy starts to ache. She can't hold it any more! Soon a huge poopy is filling up her diaper and to Ally's surprise, it actually feels good in there! The big, warm load squishes against the tight diaper and against her ass. She wriggles her ass, squishing the hot poop further and makig the diaper pull nice and tight over her tingling pussy.
Her boyfriend comes back in and is hit with the smell right away. "Hey what are you doing? This is disgusting!" He says. Ally can't hide how horny she is, and keeps rubbing her pussy into the bed. He's shocked to see how turned on she is, but starts to get a bit horny himself to see Ally being such a dirty girl. He reaches over and presses the load inside her diaper. "Your really turned on by this, aren't you?" He starts to rub her pussy through the diaper.
"Oh, fuck me," Ally moans. He tells her to push her ass up in the air. He can see the shit inside her diaper pressing out and he rubs it, pushing the mess around inside. He rips a hole in the messy diaper, revealing the squishy poop inside. He slips his fingers into her dripping pussy. He finds her clit and starts to rub it furiously.
"Oh, I'm cumming," Ally cries, but he stops just before she does. Little Ally still needs to be punished for pissing on him, then making her diaper all dirty. He widens the hole in her diaper and slips his cock inside, sliding it deep inside her throbbing pussy. He starts to fuck her nice and hard and soon she's about to cum again! Just before she does, he pull his cock out. He's not going to let her get off that easy!
Turning Ally over, he unties her from the bed. He undoes the diaper, pulling it open to reveal the mess inside. The poopy is pressed all over Ally's sexy ass. "Look at the big mess inside your diaper," He says. "You are such a dirty girl!"
He leaves the poopy diaper open, and the big load nestled between her ass cheeks. He can't wait to fuck his dirty girl! He slips his cock in and starts to pound her dirty pussy. Ally is just about to cum when he pulls away. Not yet!
He pulls the diaper out from under Ally's bum, getting a good look at the big poopy there. He fold it and drops in beside the bed, where it lands with a thud – the load is that heavy. Flipping Ally over onto her hands and knees, spreading her filthy, poop-smeared ass. He slips inside, loving the sight of his hard cock sliding in and out of Ally's dirty pussy. He starts to fuck her very hard, pounding against her shitty ass. This time, when Ally starts to cum, he doesn't pull away and it isn't long before she's shaking with the force of her huge orgasm! Who knew that being this dirty could feel so good?
Cast: MessyGirls
Genre of video: Sex Scat, Blowjob, Eating, Amateur, Scat Fuck, Anal, Amateur
Duration: 00:24:42
PaySite: Scat-Shop.com
Quality: HD 720p
Resolution: MPEG-4 Video 1280x720 29.970 FPS 2494 kb/s
Format: mov
Size: 441 MB
Download Poop Videos MessyGirls - Ally's Messy Diaper Sex from VipFile

Save in social network:
Dear visitor, you went to the site as unregistered user.
We encourage you to
register
or enter the site under your name.